The system consists of a hardware platform with software especially designed for lift control on a CANbus.
It can manage both hydraulic and traction lifts up to 32 floors with automatic push button or simplex collective control as well as multiplex operation up to quadruplex. The system consists of 3 boards: ECL1, ECL2 and ECL3.


It offers the following advantages:

cabling made much easier

lower failure rates and shorter installation time

fast error tracking

increased overall system reliability

The system allows for efficient and quick configuration, monitoring and diagnosis both on site and from a remote location.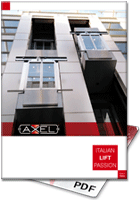 Axel Brochure